I Vend Food Produce To Pay My Tuition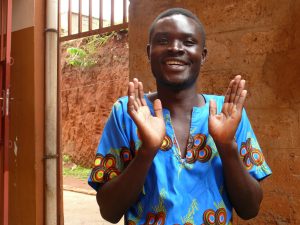 My name is Brian Kaweebe. I am a student at YMCA Kampala in my final year and also own a business called FOOD LINE PRODUCE where I sell Groundnut paste and Rice. I came up with the Business name after going through the Kyusa training. I have always had a passion for the production of food since I was a young child and had hoped to do business in future but was propelled to start when my educational aspirations came to a stand still.
I started out in business by selling Jack fruit which was in abundance at that time. I had the desire to continue with my higher education after completing high school but had no sponsor so I decided to figure out income generating ideas that could help me raise tuition. I tried working for people but the working conditions did not favour my school schedule so I opted to start my own business that would enable me study and work at the same time.
I went through the Kyusa March five day business start up training which was very enlightening. I learnt so much about myself, my business and how to strategically position myself in the market place. It is through the training that I was able to come up with a business name and went ahead to register my business. I am now empowered to run business professionally and have plans and strategies on how I can scale up.
As a result of the training I decided to focus on grain and food produce distribution than the fruits which are seasonal. With this current line of business, I don't need to overwork. I just wait for orders, and deliver the products. It wasn't this easy with the other business I was in, which required so much effort. With this one, I just need to know who my customers are. Being a student, there's more room for study with this business. I am grateful that I supply about 90% of restaurants in Wandegeya (Kampala suburb), and on occasions where I have more than that, I have to juggle between schools and meeting business orders.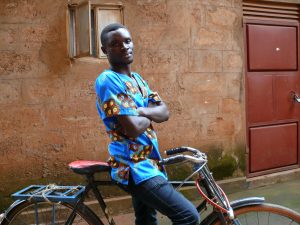 Kyusa has been very supportive of my business since I got to know about them. When I shared my struggle in making deliveries to mu customers, I was given a bicycle for easy transportation and to make delivering products to my customers hassle free. This has saved me the cost of spending so much on transport, I don't have to spend anything, and I can deliver to the farthest distances by cycling there.
Thanks to the Kyusa training, I acquired negotiating and partnership building skills. I was able to convince a friend to keep my tools and products in his store and in return I help him deliver to his customers. I serve as a delivery man and thanks to my bicycle, I get paid for my services.
I am positive about my future and aspire to grow my business into a business food supply store in the next three years as well as scale up to have distribution points in different districts in Uganda in the next ten years. Kyusa opened my eyes to the possibilities and now I am look forward to the future with hope. I will be finishing my course by the end of this year and will then fully concentrate on growing my business.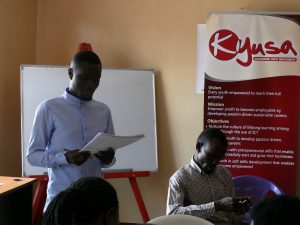 I encourage all young people who have viable business ideas to sign up for the Kyusa training's and be equipped with skills on how to successfully start and grow your businesses. Kyusa is a family, they walk the journey with you and the alumni are very supportive of each other. I know I can never walk alone because I have the Kyusa family to walk with me through life. You too can be part of this family by signing up for one of their training's.
Brian Kaweebe
Food Line Produce Ltd
Increased visibility & business networks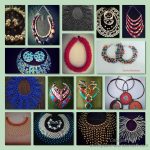 I am Judith Kokuletage Kasule; a mother and a wife. I make jewellery, beads, purses, and so on. I also do marketing and sales on the side when I get gigs.
I've always been ambitious all my life. I'm a typical go-getter. I initially wanted to sell already made jewellery, but then a thought sprung up, and I was like "I could actually make mine and sell!!" That was how it started.
A friend told me about Kyusa so I signed up for the March 2019 Business Startup Class. Kyusa helped me to attain more visibility, and enabled me access various networks so as to grow my scope of reach.
I hope to have my own shop where I can showcase my collection of jewellery and other crafts
Judith K Kasule
Jeek Collections
Supported to mobilise resources
I am Ssaava the co-founder of Tukole Arts Culture Inspiration Centre , with Gessa Sophie my life partner and co-founder. We deal with arts and crafts, we organise workshops, train street kids, rehabilitate them, and provide them with livelihood skills thus enabling them thrive in life.
Through the social enterprise aspect of our organization, we restore hope to vulnerable youth and women through skills development that can enable them earn a living. The business side of our organization is constantly growing, a significant growth is the shop we have now, we didn't have a shop before. After the Kyusa training, emphasis was placed on securing a shop which we have achieved among other goals we set out to accomplish.
We have received so much help from Kyusa in the area of business development, strategic planning and proposal writing. We recently received our first grant from The Pollination Projects and Kyusa supported us all through the proposal writing process. This is the beginning of many more milestones we are yet to celebrate with Kyusa.
Ssaava Ddamulira
Tukole Arts Cultural Inspirations
Empowered to actualise dreams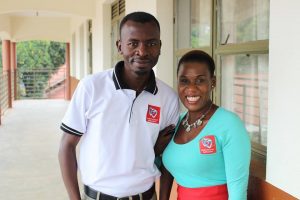 I am Kasozi Franklyn, an electrician, a pastor, I also happen to hold a masters in Divinity. Together with my wife, Sarah Kasozi who's a social worker, we started Heart to heart initiative in 2005. We registered the organization in 2017.
Kyusa has helped us to actualize our vision. I had ideas I did not know how to make a reality, but I have now decided to go all in and turn them into reality. I have also learnt how to manage the business aspect of heart to heart initiative, and how to place value on myself.
Franklyn Kasozi
Heart to heart Initiative
I acquired business skills to scale
I am Jacob Onugi, the owner of Travilla Leather Uganda LTD, where we produce and sell shoes. I attended the Kyusa business training in 2019 and was immensely empowered.
As a result of the Kyusa training, I have more knowledge on how to properly run a business. Topics like record keeping and management skills have greatly helped me in the running of my business.
I had always wanted to scale but didn't know how to fully go about it. The Kyusa training opened my eyes to the possibilities and we are now on the right track.
We have been able to streamline operations as well as increase production because of the changes we implemented from the Kyusa training.
Jacob Onugi
Travilla Leather Uganda Ltd
Growth In sales & Strategy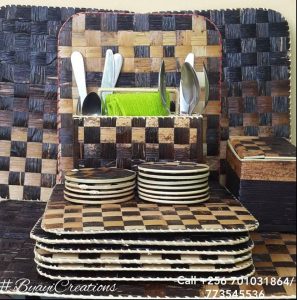 My name is Andrew, a Kyusa alumnus and the founder of ByayiCreations. Byayi Creations is a business that focuses on up-cycling banana waste into reusable household products such as table mats, cutlery holders, photo frames, wall hangings and other household accessories.
I heard about Kyusa and its business startup training from a friend. It was at a point where I was out of ideas on how to kick start my business and take it to the next level. I then applied for this opportunity to grow and thankfully, it happened.
The entire Kyusa training was an eye opener; the assignments and activities pushed me. Although, specifically, the topic 'Value Proposition' helped me to evaluate not only my personal values but my business' values as well. I also got to understand the fact that people buy value, and not necessarily the product. Another thing that also struck me as important was the aspect of 'Customer Segmentation'; I learnt that I can't sell to everyone and that has helped me to Identify my customers, and so far, it's been working! Last but not the least was the lesson on revenue stream. Finding out that I can diversify within my business has been a game changer.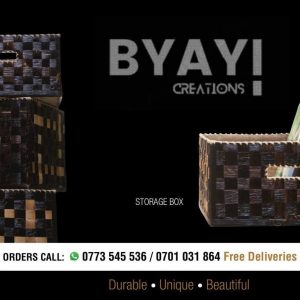 Some of the trackable impact we have achieved so far:
•Our sales have increased greatly.
•We have made a gross average of 1.2 million UGX in sales each month since April 2019
•We pay the suppliers of our raw materials.
We now sell on Jumia so we are able to reach more customers than before. It was during the Kyusa training that we were challenged to invest in building a strong online presence which has greatly paid off.
I am very grateful for the Kyusa community and their continued support.
Andrew Mukuve
Byayi Creations
I turned my passion into a profitable business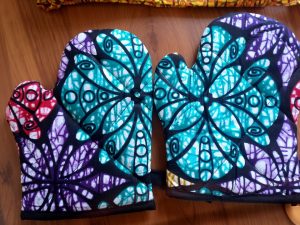 My name is Akampurira Prima Tusiime, a 25 year old, wife, mother and business owner. I am the proprietor of Prima Designs. I attended the Kyusa training in 2015 and have continued to grow my business since then through the changing phases of life.
My business Prima Designs was birthed out of a passion to make beautiful fabrics come to life. We make bags, aprons, gloves,toilet bags, tote bags, table mats, toilet paper holders, clothing-shorts, dresses and so much more. Nothing is off limits.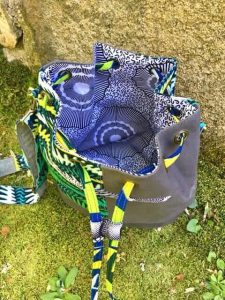 Ever since I attended the Kyusa training, I put all I was taught into practice, for instance, I started tracking all my expenses and started holding myself accountable business wise, all I would not have been able to do had I not attended the training.
Kyusa has exposed me to an entirely different aspect of life. I have got the chance to network and meet different people which has led me to grow in many aspects of my life. As a result of the knowledge I acquired, I aspire to be one of the biggest suppliers of Ankara products country wide.
Prima A Tusiime
Prima Designs
Transforming Lives Through Cycling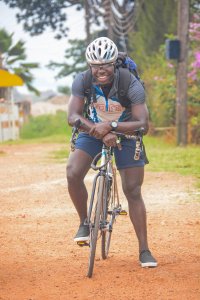 Akuwa Derick is a Kyusa alumnus from the Social Enterprise Accelerator class. He is the founder and director of GoFree Uganda- a tour and travel company that capitalizes cycling as a means to recreation and life skills development for children and adults.
Kyusa intervention that influenced transformation:
The business development module was a great assignment which challenged me to look ahead in terms of how I foresaw growing my project and also put in consideration my growth in the process and the different aspects I needed to put under consideration to see it all happen
The trackable transformation/ impact:
We have empowered over 30 community children through our children cycling community program and 4 part time jobs have been created and over 200 clients are served through our cycling tour services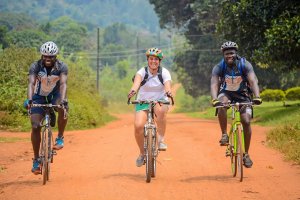 What/who inspired you to start this business?
I was inspired to start my project based on the existing unemployment among youth in impoverished communities and the scale at which cause social driven enterprises can change in the lives of the many youth in these communities.
What is the biggest challenge you have faced as an entrepreneur?
Lack of mentorship and support into the various challenges associated with starting a business like generating a sound business plan and implementation module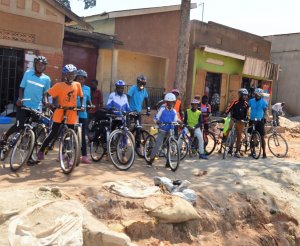 How has Kyusa helped you scale those challenges?
Kyusa has introduced me to a network of fellow entrepreneurs with whom I can share experiences with and also Kyusa has provided me with workshops on specific knowledge sets that I need for my project
Where do you see your business in the next five years?
I see my business in the next five year being a role module project in the field of cycling entrepreneurship and empowering youth in job specific skills which will enable them have an employment
What does your marketing strategy entail?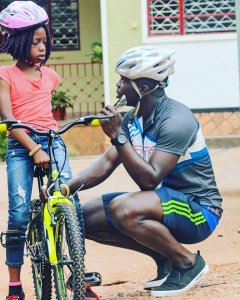 -Social media marketing
-Marketing material distribution
-Recommendations
-Web SEO
-Marketing material (Flyers and poster) distribution
Akuwa Derick
Kampala
I Was Terminated For Being A Mum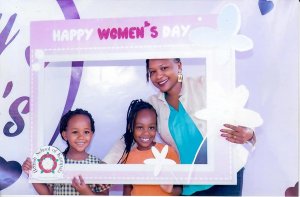 Anita Kiddu Muhanguzi is a lawyer by profession who turned to social entrepreneurship after being unfairly terminated from work for being a mum. She is a wife, mother and advocate for the rights and welfare of other mothers more so those at the margins of society. She attended the Kyusa accelerator class and was able to fine tune her business model and social impact strategy.
Tell us about you:
I am a trained lawyer who has passion for vulnerable and marginalized communities. I started farming in 2014 and started interacting with the local communities especially the women and girls. Through this interactions we were able to start training's on better farming practices and also on promotion of human rights. In 2017 we registered Sowing Seeds of Tumaini as a company limited by guarantee and we are embarking on registration of the organization as a non-profit organization.
We working closely with the rural communities in both buikwe and Kasawo focusing mainly on the women who are the real bread winners of the families and the main contribution towards the labour force. We have also reached out to the youth through sports and are encouraging them to engage in agricultural activities where they can earn a living.
Kyusa intervention that influenced transformation: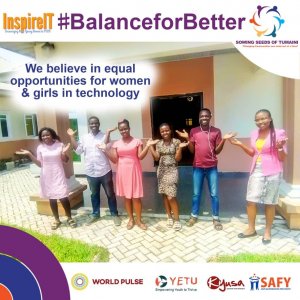 With the Kyusa Intervention we were able to review the organization structure, profile our customers and partners, review our mission and vision and intensify on our fundraising avenues and marketing strategies.
Tell us a little about your business
Our business is to link the communities to favourable markets where they will not be exploited and to train them in better farming practices to boost their production and quality so as to sustain the market demand.
What / who inspired you to start this business?
I lost my job in 2010 December after I gave birth to my first born daughter. Being a mother was not favorable to the office administration and so my contract was not renewed for the next year. This was an eye opener for me considering that I was a first time parent who had no savings whatsoever. I started doing research on farming and in 2014 after visiting various farms I ventured in to farming with my family.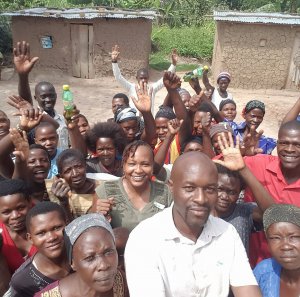 I realized that the women in the community were bread winners of their families and had no incomes to sustain their families. After several interactions with them I decided that the knowledge I had acquired and contacts of agronomists should be put to good use to better the lives of these women and the community at large. These women welcomed us into their community and they inspired me to be better at what I do and that is reaching out and helping people. It is because of them that we started Sowing Seeds of Tumaini to give them hope for a brighter day and better future.
What is the most interesting thing being an entrepreneur has taught you?
Being a social entrepreneur has taught me to be more compassionate towards people in the communities, I have learnt to design solutions that are community based and that come from the people in the community.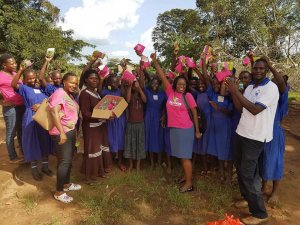 I have also learnt to set targets and goals and follow them through. The people I interact with in the communities live such a simple and peace life and they always think through their actions before they decide the next step unlike us in the city who are always in a rush and end up making severe mistakes in life. They have taught me to always take a day at a time but to always be determined at whatever I want to achieve in life.
What is the biggest challenge you have faced as an entrepreneur?
The biggest challenge that I have faced is engaging with the community leaders. This was a hurdle because they thought we were one of those organisations that takes advantage of the community. It took us two years to gain their trust and confidence and now we have a good working relationship and we are one big family.
How has Kyusa helped you scale those challenges?
Through the business accelerator program we were able to review and profile our community members and partners and identify solutions that work for the community.
Realistically speaking, where do you see your business in the next five years?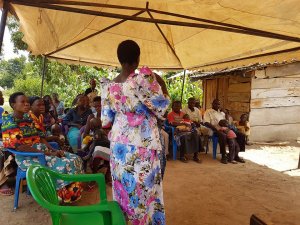 In the next five years we see ourselves working with over 10,000 farmers and are supplying food to big organisations like World Food Program. We also want to have an application that will track the progress of the individual farmers and record best practices so that we can reach out to more regions in Uganda.
Have you had any collaborations so far?
At the moment we are working with Hamwe an IT company that is developing for us a tailor made application that will track the progress of the farmers in the different communities. We are working closely with the local leadership in the areas of Buikwe and Kasawo,
What does your marketing strategy entail?
Our marketing strategy entails using a lot of the social media platforms to reach a wider and bigger audience, using the different networks like the Rotary fraternity, friends and family members.
Email: a.kiddu@gmail.com
Twitter: @AnitaKiddu Facebook: Anita Kiddu Muhanguzi
Anita Kiddu Muhanguzi
Seeds of Tumaini
I am An Employer At 25Yrs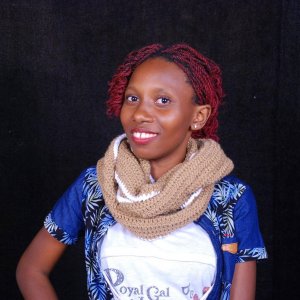 Kuteesa Doborah is a graduate from Makerere University who decided to purse her passion and eventually turned it into a job instead of roaming the streets for employment. At the age of 25 years when many youth are highly dependant, Debbie – as she is famously referred to by her friends is financially independent. Not only does she take care of her bills, she supports her mother and siblings through her business and aspires to scale so as to support more vulnerable youth. She shares her story
Tell us about yourself:
My name is Kuteesa Deborah and I am the founder of D-Molds, a business that offers customised crocheted designs for all age groups ranging from baby clothes, poncho's, sweaters, scarves, socks and cross bags among other products. We serve both men and women as well as have packages for customized family designs. We aspire to secure contracts with companies and training institutions in the near future.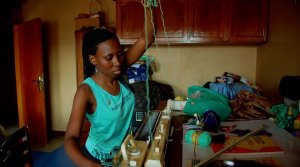 Tell us about your journey with Kyusa:
I attended the Kyusa business startup class in 2017 while I was still at campus. I had been crocheting for a while when I learnt about the Kyusa business classes. At that time I wanted to start earning from this passion but did not know how to go about it so I enrolled for the class. I remember it was at the start of 2017 and that set the momentum for that year and my life from that point forward. I started crocheting as a business and I have never looked back.
It is at that point where I realised that I did not have to wait until I graduate to start looking for a job but rather could start my own business and aspire to employ others. Kyusa opened my mind to the fact that business is not for older people neither is it for people with lots of money but anyone with a passion and skill can start a business. However to succeed in business, one needs business training and coaching. Today I am a proud entrepreneur and aspire to become an employer of other youth real soon.
How did you get into the crocheting business?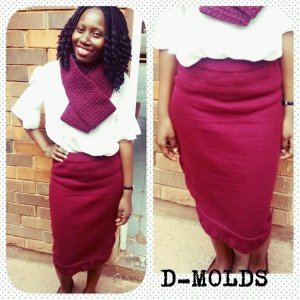 I started crocheting out of curiosity and fun. I was a university student and had a part time job working at an internet cafe. One of the ladies I worked with at that time was crocheting as a side business. I loved her work and figured it was easy to learn so I decided to learn. The more I attempted the skill the more I found it interesting. I could lose track of time and was motivated to try again no matter how many times I failed and that is how I discovered it is more of a passion than just a mere hobby.
My curiosity drove me to become better. I started by trying out different designs and later engaged Youtube as my official learning portal. Most of the designs and patterns that I have mastery of today, I learned majority from Youtube while others I learnt from those who are more skilled than me.
What Kyusa intervention have influenced transformation the most?
During the Kyusa training, I learnt how to turn my passion into a profitable business. I developed a business model canvas for my business and was supported to develop brand identity for the same.
Post training; Kyusa has provided a couple of training's besides the business startup which have helped my brand to grow. Kyusa challenged me to legalise my brand, develop a logo for my products and more so it has provided different platforms to showcase my products. They have challenged me to increase on my product line. This year I attended a conference which was held at Lugogo as a catalyst of Kyusa.
The trackable transformation/ impact:
My monthly sales have grown tremendously and I have a wide range of products though I am choosing to focus on a few core ones so as to strengthen my nitch in the market. I currently work with my mother and want to train two more people by end of the year so as to increase our production capacity. I have so far offered apprenticeship to one vulnerable girl who is now able to fend for herself using the same skill.
I am grateful that while many youth my age are looking for someone to employ them, I am grooming people that I want to start employing in less than a year. I chose to be a job creator and not a job seeker even though I have so far taken baby steps on this journey.
What / who inspired you to start this business?
The people around me especially my boss encouraged me to spread my wings. I am a product of people who have believed in me and challenged me to stretch my limits from time to time.
What is the most interesting thing being an entrepreneur has taught you?
To have an end in mind. This keeps you going even in the toughest seasons. I have had to learn to think ahead instead of simply living in the moment. Although I am young, I have a plan for my life and have a clear sense of direction regarding where I want to go in life.
What is the biggest challenge you have faced as an entrepreneur?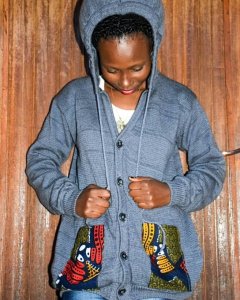 This year I opened up my business to train at least two people every six months for free and I failed to find the people. Many young people want to earn but do not want to pay the price for that money. Others are fixed on white collar jobs where evidently there is a scarcity. The mentality of majority of young people is self defeating. So yes market opportunities are limited but many youth are also not ready to leverage the few opportunities available which is a challenge more so when you have an opportunity to offer.
Realistically speaking, where do you see your business in the next five years?
The thought of it makes me happy. In five years,we will be having Knitting and crocheting classes running, we will be exporting our products to different countries,we will be owning a shop,increased product range, increased production and employing people.
What scares you the most?
Nothing.
What does your marketing strategy entail?
I use social media to market my products. For example I use Facebook, whatsap, instagram, I also talk to people about the different things that I do. Friends have also played a bigger part in marketing D-MOLDS products.
Contact us:
Phone number:0704597840 Email:k.deborah79@gmail.com
Twitter: @dmolds Facebook: dmolds

Deborah Kuteesa
D-Molds
The Business Study Trip Changed My Life
Zainab Nagudi is the founder of Kyuka Women Initiative based in Mpigi- Uganda. She is one of the six bakers that took part in the recently concluded business study trip for bakers to learn from a partner company – Cake Culture based in Nairobi- Kenya. She shares her highlights, learning experiences and recommendations.
Tell us about the journey to Nairobi:
We set off at about 4:47 pm from the National theatre in Kampala on Sunday the 15th of October. The journey lasted for 15 hrs and 13 minutes- don't ask how I managed to keep track because I did. The journey was good at first but started to feel exhausted because it was my first time to travel to Kenya I had no idea how long it would take. As a matter of fact, it was my first time to travel out of Uganda.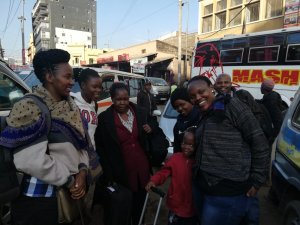 We were hosted by Atieno Racheal and her family who warmly welcomed us to their home which had been appointed as a place of accommodation. At home, we were treated nicely whereby at the first day breakfast was served with different types of toasted bread and milk tea to those who drink milk and black tea for us who doesn't take milk. We rested for 3 hrs from 9:00 am to 12 pm and came back for lunch after which, Racheal took us through the week agenda and also everyone got a chance to introduce themselves. And that was the start of this great learning experience.
What were some of the activities that stood out for you from this trip?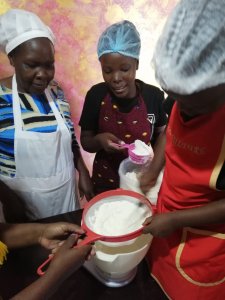 Right from Tuesday, all the participants engaged themselves in every single activity with all their hearts and love. These included making of vanilla cake, chocolate fudge and red velvet cake mixture and baking.
On Wednesday, we had a training on how to make whipping cream, butter cream, ice cream and cake icing which were facilitated by Racheal. We also had a training on how to make fondant and cake decoration which was facilitated by Naomi.
On Thursday we went visited Zealandia and attended a training on making muffins and learnt about the flour which is being mixed by them. This was facilitated by Esther and Vincent.
Finally, we learnt how to make pizzas and bread by Emma and on the closing day Racheal taught us how to make cookies and lemon muffins. And she took us through cake pricing and bakery business management.
I like the fact that during all the trainings, all members were given a chance to physically practice with help of the trainers which was the best experience for all us.
Share some of your key learning outcomes:
The opportunity of using the machines and the freedom of mixing the flavors ourselves was the best experience I have ever had. This gave me courage and knowledge on how I can train a person when I get one.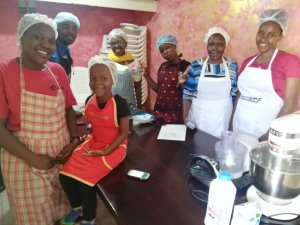 From this training, I learnt how to collaborate with others in form of helping each other to understand what the facilitator has said.
-The love and good care my team showed me, I would also like to apply it my team so that I can hold each and every one accountable and feel loved.
The experience was good in that I was able to discover some of my weaknesses and strength.
What final remarks or recommendations do you have about the business study trip?
I recommend that this trip should be organized at least twice a year so that it gives a chance to more people in Uganda who are interested in cake baking and also have the love of baking and they are also willing to take their baking skills to another level.
I also recommend that you can also increase on the fees we pay for the trip so that everyone can benefit. Because all the things we used and ate was expensive compared to the money we paid.
Zainab Nagudi
Kyuka Women Initiative
The Business Trip Unearthed My Potential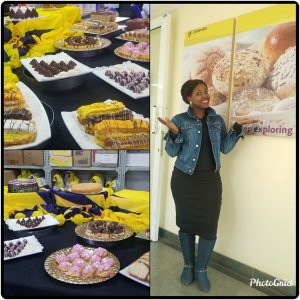 I was honored to be one of the 6 people that Kyusa invited to attend the business study trip to Nairobi – Kenya at Cake culture from 15th to 21st September, 2019.
We were hosted by a lovely family that made our stay in Kenya memorable. We had a clear schedule, so we knew what we were going to study and braced ourselves for the week.
The training was intense and hands-on at the same time. Our teacher (Rachel) made sure we were involved in all the activities. We had the recipes printed out for us, we read them out step by step and took part in mixing the cakes, baking and tasting them as well.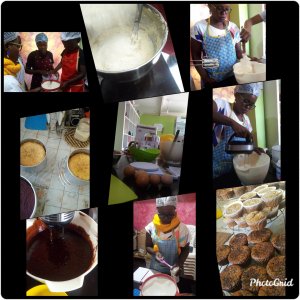 We made a trip to a company called Zeelandia that makes cake premixes. We got to see how you can bake commercially. They did some demos for us and gave room for us to ask questions. I personally learnt a lot especially how to package your product and also how I can diversify by selling baking products.
The last day, was important for the growth of my business as we got to learn how to cost our products. It is something I had been struggling with given that baking was my hobby other than a income stream.
The trip marked the beginning of success for my brand, I am looking forward to growing other women, my brand and also leave a legacy for my children.
Thank you Kyusa, Cake Culture and Global Living Institute for being part of; My success stories!
Angella M Senfuma
Kampala
From an Environmentalist to Beautician
Today we feature Yvette Ampaire Murangira, a Makeup Artist and CEO of Makeup World by Yvette
About Yvette Ampaire Murangira
Yvette is a vibrant beautician and an entrepreneur. She is a wife and a motivational speaker. Her passion and zeal for people development is contagious. She always wears a smile that will warm the heart of any customer/ person. She is committed to bringing out the best in others through affirmation and sharing relevant beauty as well as health tips. Yvette went through the Kyusa training in 2018.
How did you learn about Kyusa?
Motivated by the desire to discover what the next stage of my life was, I set out on a journey to find a sense of direction for my life, and be a part of something alive.
I had just left my formal job and really wanted a fresh meaningful start in life. And it was at this point that I learnt about Kyusa from the Internet.
"I came to Kyusa and continued coming because I felt like what I was getting from there was helping me learn more about myself in terms of who I am and how I can serve the world."
How has your life been impacted by Kyusa?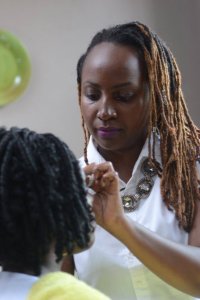 My mission to discover who I am and what part I have to play in life was achieved, and is still being achieved because there's a new thing to learn every day. It was at this point, through attending one of the Kyusa Trainings, that I discovered my passion for being a beautician. Previously, I was an environmentalist & climate change activist;
"I'm now a beautician running a business, and Kyusa has seen it grow from just an idea to an actual business, I bless God."
Kyusa has changed her life.
" Kyusa has helped me be more organized, more focused and to have clear objectives."
I started off my business as a mobile service, then I moved to small space in Makerere where I employed one other makeup artist and hair stylist to work with me. She has also moved and runs a similar business of her own which is a good thing. Soon business grew and I was able to secure customers on the upper side of town so I shifted to a much bigger location in Ntinda. I now employ three full time ladies and six contract artists for when I have field clients that I am unable to attend to. We have expanded the range of services we offer from just make up to hair styling, bridal packages, massage, facial and body treatment as well as training young people that want to venture out into the same line of business.
What have been the keys to your business success?
Every experience is important in life and so my previous work experiences came in handy when I launched my business. I had been exposed to people from various walks of life and this helped me build a clientele base from people I had previously interacted with. The professional etiquettes acquired during formal employment have enabled me set a high professional standard for my team and business as a whole, this has greatly contributed to the growth of my business.
I made a decision early in life that I would be a person of my word and this is a principle that guides my life as well as my business. When I promise something to my client, I do my best to follow through on time and incase I fail, I do communicate ahead of time.
Business is all about relationship so I invest in building relationships with people as a whole and clients. I take the time to call and check on people as well as being genuinely interested in their lives. One of the ways to show people that you are interested is by listening so learn to listen to people and you will have found a way to win their hearts.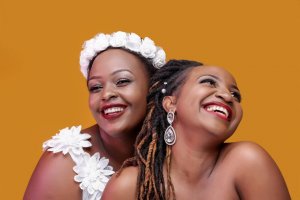 I am blessed with an infetious smile so I use it to make people feel welcome and comfortable. I smile alot by default and in my line of work, this helps calm the nerves of my clients. For example when working on a bride, often times their nerves are on the edge and it helps to just be warm and tender towards them so as to make their makeup experience enjoyable.
Coupled with that is being positive all the time. I maintain a positive attitude in everything. As a result, I always speak positive affirmation to my team and clients. The truth is that people are going through so much, so many are looking for that soothing affirmation and thats something we offer with our services. I have taught my team to speak positively to our customers and this always works like magic.
Through Kyusa I have been equipped to develop systems for my business so as to track revenues, expenditures and all related business costs. This has saved me alot of headache more so as I aspire to grow and scale my busiess to have more locations. Running a business is already hard enough and not having systems only makes it harder. So I would urge every business owner to develop systems in their businesses that can ensure the business runs even when you are not around.
Where do you see yourself in a few years?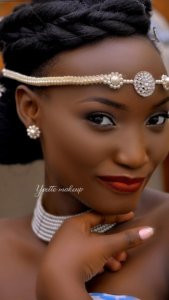 Beyond just being a beautician, I am also passionate about social work and working with young women to empower them unlock their potential. I have registered a non profit that is still in the forming and will mainly focus on using beauty and health skills as a means to empowering young women to thrive.
I am also passionate about perfumes and aspire to develop my own line of perfumes and other beauty products in the next couple of years. I have already started working on samples and testing them out on some of my current clients so as to get feedback. I am researching and learning from those already engaged in this line of business as I prepare myself to launch out fully.
I aspire to grow my businesses to create more job opportunities for young women as a way of contributing to the mission of Kyusa which is to reduce youth unemployment in Uganda. As a Kyusa alumni, I am committed to being part of the solution in our country and generation as a whole.
How are you leveraging the lock down?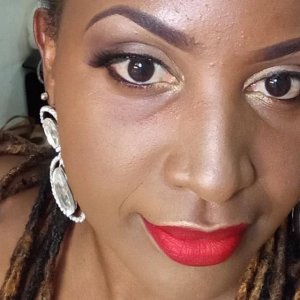 I am using this time to research and test out new products and designs. This for me is a much needed break for personal and business development. I am spending more time with my spouse and also using the rest of the time to explore my other talents and making preparations for a stronger come back as a business after the lock down. We are expanding our range of services as a business so we can better serve our clients.
What are your parting words?
I urge busines owners to use this time to grow, improve their skills and plan for their businesses.
There is always an opportunity in the midst of every calamity. If you pay attention to the details and trends, you will uncover those opportunities.
What I learnt from Kyusa, I have endeavored to pass on and share with as many people as I can; my team, my clients and the people I meets that may not necessarily be my clients. When we build others up, we set our own platform to grow and thrive.
"I encourage people to enroll into Kyusa, however, I'd caution them that they ought to be willing and ready to learn."