Today we feature Yvette Ampaire Murangira, a Makeup Artist and CEO of Makeup World by Yvette
About Yvette Ampaire Murangira
Yvette is a vibrant beautician and an entrepreneur. She is a wife and a motivational speaker. Her passion and zeal for people development is contagious. She always wears a smile that will warm the heart of any customer/ person. She is committed to bringing out the best in others through affirmation and sharing relevant beauty as well as health tips. Yvette went through the Kyusa training in 2018.
How did you learn about Kyusa?
Motivated by the desire to discover what the next stage of my life was, I set out on a journey to find a sense of direction for my life, and be a part of something alive.
I had just left my formal job and really wanted a fresh meaningful start in life. And it was at this point that I learnt about Kyusa from the Internet.
"I came to Kyusa and continued coming because I felt like what I was getting from there was helping me learn more about myself in terms of who I am and how I can serve the world."
How has your life been impacted by Kyusa?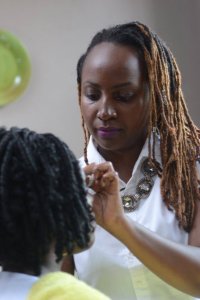 My mission to discover who I am and what part I have to play in life was achieved, and is still being achieved because there's a new thing to learn every day. It was at this point, through attending one of the Kyusa Trainings, that I discovered my passion for being a beautician. Previously, I was an environmentalist & climate change activist;
"I'm now a beautician running a business, and Kyusa has seen it grow from just an idea to an actual business, I bless God."
Kyusa has changed her life.
" Kyusa has helped me be more organized, more focused and to have clear objectives."
I started off my business as a mobile service, then I moved to small space in Makerere where I employed one other makeup artist and hair stylist to work with me. She has also moved and runs a similar business of her own which is a good thing. Soon business grew and I was able to secure customers on the upper side of town so I shifted to a much bigger location in Ntinda. I now employ three full time ladies and six contract artists for when I have field clients that I am unable to attend to. We have expanded the range of services we offer from just make up to hair styling, bridal packages, massage, facial and body treatment as well as training young people that want to venture out into the same line of business.
What have been the keys to your business success?
Every experience is important in life and so my previous work experiences came in handy when I launched my business. I had been exposed to people from various walks of life and this helped me build a clientele base from people I had previously interacted with. The professional etiquettes acquired during formal employment have enabled me set a high professional standard for my team and business as a whole, this has greatly contributed to the growth of my business.
I made a decision early in life that I would be a person of my word and this is a principle that guides my life as well as my business. When I promise something to my client, I do my best to follow through on time and incase I fail, I do communicate ahead of time.
Business is all about relationship so I invest in building relationships with people as a whole and clients. I take the time to call and check on people as well as being genuinely interested in their lives. One of the ways to show people that you are interested is by listening so learn to listen to people and you will have found a way to win their hearts.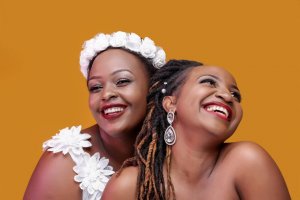 I am blessed with an infetious smile so I use it to make people feel welcome and comfortable. I smile alot by default and in my line of work, this helps calm the nerves of my clients. For example when working on a bride, often times their nerves are on the edge and it helps to just be warm and tender towards them so as to make their makeup experience enjoyable.
Coupled with that is being positive all the time. I maintain a positive attitude in everything. As a result, I always speak positive affirmation to my team and clients. The truth is that people are going through so much, so many are looking for that soothing affirmation and thats something we offer with our services. I have taught my team to speak positively to our customers and this always works like magic.
Through Kyusa I have been equipped to develop systems for my business so as to track revenues, expenditures and all related business costs. This has saved me alot of headache more so as I aspire to grow and scale my busiess to have more locations. Running a business is already hard enough and not having systems only makes it harder. So I would urge every business owner to develop systems in their businesses that can ensure the business runs even when you are not around.
Where do you see yourself in a few years?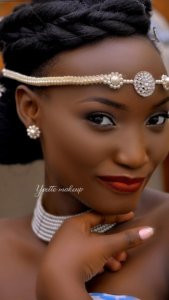 Beyond just being a beautician, I am also passionate about social work and working with young women to empower them unlock their potential. I have registered a non profit that is still in the forming and will mainly focus on using beauty and health skills as a means to empowering young women to thrive.
I am also passionate about perfumes and aspire to develop my own line of perfumes and other beauty products in the next couple of years. I have already started working on samples and testing them out on some of my current clients so as to get feedback. I am researching and learning from those already engaged in this line of business as I prepare myself to launch out fully.
I aspire to grow my businesses to create more job opportunities for young women as a way of contributing to the mission of Kyusa which is to reduce youth unemployment in Uganda. As a Kyusa alumni, I am committed to being part of the solution in our country and generation as a whole.
How are you leveraging the lock down?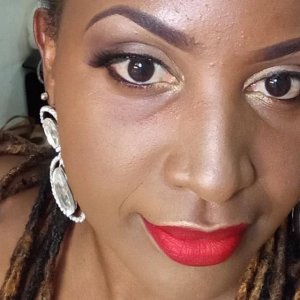 I am using this time to research and test out new products and designs. This for me is a much needed break for personal and business development. I am spending more time with my spouse and also using the rest of the time to explore my other talents and making preparations for a stronger come back as a business after the lock down. We are expanding our range of services as a business so we can better serve our clients.
What are your parting words?
I urge busines owners to use this time to grow, improve their skills and plan for their businesses.
There is always an opportunity in the midst of every calamity. If you pay attention to the details and trends, you will uncover those opportunities.
What I learnt from Kyusa, I have endeavored to pass on and share with as many people as I can; my team, my clients and the people I meets that may not necessarily be my clients. When we build others up, we set our own platform to grow and thrive.
"I encourage people to enroll into Kyusa, however, I'd caution them that they ought to be willing and ready to learn."