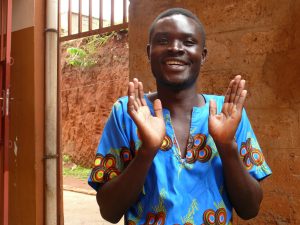 My name is Brian Kaweebe. I am a student at YMCA Kampala in my final year and also own a business called FOOD LINE PRODUCE where I sell Groundnut paste and Rice. I came up with the Business name after going through the Kyusa training. I have always had a passion for the production of food since I was a young child and had hoped to do business in future but was propelled to start when my educational aspirations came to a stand still.
I started out in business by selling Jack fruit which was in abundance at that time. I had the desire to continue with my higher education after completing high school but had no sponsor so I decided to figure out income generating ideas that could help me raise tuition. I tried working for people but the working conditions did not favour my school schedule so I opted to start my own business that would enable me study and work at the same time.
I went through the Kyusa March five day business start up training which was very enlightening. I learnt so much about myself, my business and how to strategically position myself in the market place. It is through the training that I was able to come up with a business name and went ahead to register my business. I am now empowered to run business professionally and have plans and strategies on how I can scale up.
As a result of the training I decided to focus on grain and food produce distribution than the fruits which are seasonal. With this current line of business, I don't need to overwork. I just wait for orders, and deliver the products. It wasn't this easy with the other business I was in, which required so much effort. With this one, I just need to know who my customers are. Being a student, there's more room for study with this business. I am grateful that I supply about 90% of restaurants in Wandegeya (Kampala suburb), and on occasions where I have more than that, I have to juggle between schools and meeting business orders.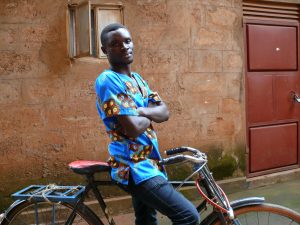 Kyusa has been very supportive of my business since I got to know about them. When I shared my struggle in making deliveries to mu customers, I was given a bicycle for easy transportation and to make delivering products to my customers hassle free. This has saved me the cost of spending so much on transport, I don't have to spend anything, and I can deliver to the farthest distances by cycling there.
Thanks to the Kyusa training, I acquired negotiating and partnership building skills. I was able to convince a friend to keep my tools and products in his store and in return I help him deliver to his customers. I serve as a delivery man and thanks to my bicycle, I get paid for my services.
I am positive about my future and aspire to grow my business into a business food supply store in the next three years as well as scale up to have distribution points in different districts in Uganda in the next ten years. Kyusa opened my eyes to the possibilities and now I am look forward to the future with hope. I will be finishing my course by the end of this year and will then fully concentrate on growing my business.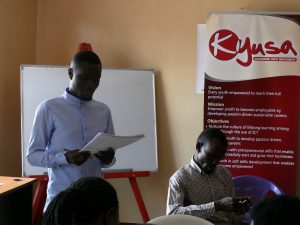 I encourage all young people who have viable business ideas to sign up for the Kyusa training's and be equipped with skills on how to successfully start and grow your businesses. Kyusa is a family, they walk the journey with you and the alumni are very supportive of each other. I know I can never walk alone because I have the Kyusa family to walk with me through life. You too can be part of this family by signing up for one of their training's.