Zainab Nagudi is the founder of Kyuka Women Initiative based in Mpigi- Uganda. She is one of the six bakers that took part in the recently concluded business study trip for bakers to learn from a partner company – Cake Culture based in Nairobi- Kenya. She shares her highlights, learning experiences and recommendations.
Tell us about the journey to Nairobi:
We set off at about 4:47 pm from the National theatre in Kampala on Sunday the 15th of October. The journey lasted for 15 hrs and 13 minutes- don't ask how I managed to keep track because I did. The journey was good at first but started to feel exhausted because it was my first time to travel to Kenya I had no idea how long it would take. As a matter of fact, it was my first time to travel out of Uganda.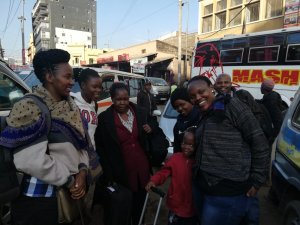 We were hosted by Atieno Racheal and her family who warmly welcomed us to their home which had been appointed as a place of accommodation. At home, we were treated nicely whereby at the first day breakfast was served with different types of toasted bread and milk tea to those who drink milk and black tea for us who doesn't take milk. We rested for 3 hrs from 9:00 am to 12 pm and came back for lunch after which, Racheal took us through the week agenda and also everyone got a chance to introduce themselves. And that was the start of this great learning experience.
What were some of the activities that stood out for you from this trip?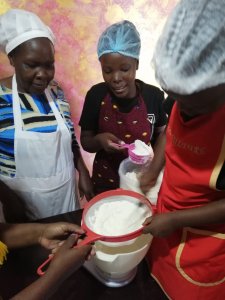 Right from Tuesday, all the participants engaged themselves in every single activity with all their hearts and love. These included making of vanilla cake, chocolate fudge and red velvet cake mixture and baking.
On Wednesday, we had a training on how to make whipping cream, butter cream, ice cream and cake icing which were facilitated by Racheal. We also had a training on how to make fondant and cake decoration which was facilitated by Naomi.
On Thursday we went visited Zealandia and attended a training on making muffins and learnt about the flour which is being mixed by them. This was facilitated by Esther and Vincent.
Finally, we learnt how to make pizzas and bread by Emma and on the closing day Racheal taught us how to make cookies and lemon muffins. And she took us through cake pricing and bakery business management.
I like the fact that during all the trainings, all members were given a chance to physically practice with help of the trainers which was the best experience for all us.
Share some of your key learning outcomes:
The opportunity of using the machines and the freedom of mixing the flavors ourselves was the best experience I have ever had. This gave me courage and knowledge on how I can train a person when I get one.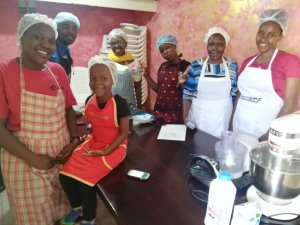 From this training, I learnt how to collaborate with others in form of helping each other to understand what the facilitator has said.
-The love and good care my team showed me, I would also like to apply it my team so that I can hold each and every one accountable and feel loved.
The experience was good in that I was able to discover some of my weaknesses and strength.
What final remarks or recommendations do you have about the business study trip?
I recommend that this trip should be organized at least twice a year so that it gives a chance to more people in Uganda who are interested in cake baking and also have the love of baking and they are also willing to take their baking skills to another level.
I also recommend that you can also increase on the fees we pay for the trip so that everyone can benefit. Because all the things we used and ate was expensive compared to the money we paid.