"The graveyard is the richest place on earth because it is here that you will find all the hopes and dreams that were never fulfilled…" – Les Brown
Thankfully, this will never be the case for Deborah Kuteesa, the CEO and founder of D-Molds. D-Molds is a crocheting company that offers a wide range of products; sweaters, scarfs, throw-on – the list goes on and on.
Deborah who's mostly known as Debbie was introduced to the art of crocheting by her colleague, while at another job. I guess it's true then what they say, "Few things have such a huge impact on happiness and the enjoyment, depth, and plain fun of life as the friendships we have."
After being taught the basics of crocheting by her colleague, she decided to delve deeper into it, and YouTube became her next teacher; talk about passion driving us to greater lengths! Well, learning and doing became Debbie's companion, and as a result, a 'good Samaritan' offered her a knitting machine at no cost at all, if only she would agree to sign up for knitting classes.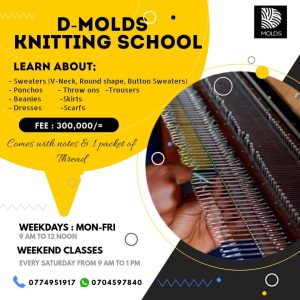 Now with a knitting machine at her disposal, and an astounding depth of knowledge in crocheting, Debbie is well on her way to gaining mastery in the field! And the best part is, Debbie has decided to share this skill with people in her community. Today, together with her team, Debbie is running skilling sessions for girls in her community. Their first-class being made up of three students, they are growing by the day; after all, "bringing out the best in others is how you find the best in yourself" – Noeline Kirabo
D-Molds' goal is to skill 10,000 people. No goal is too big to be achieved as long as your focus, heart, and steps are in the right place.