Overview
Ssemakula Harriet is a former primary school teacher who resorted to business in the face of the recent pandemic to try and fend for herself. She started up a boutique dealing in second-hand clothes but was struggling to break even because much of what she knew about business, she had learnt on the job. She opted to sign up for the Kyusa training to acquire the necessary business skills to enable her to grow her business.
In her own words…
"My Name is Ssemakula Harriet I was once a primary teacher for almost 8years but faced a number of challenges including poor working conditions and sometimes no payments at all. I tried to process becoming a government-licensed teacher and that is when the pandemic of COVID 19 came in. So from such challenges, I developed a thought of employing myself because from the beginning I had a passion for Fashion and Design. Eventually, I thought of starting a boutique. Before starting, I made a pilot study and Identified that it will work according to the community I live in. I started with the limited Capital I had prepared to process the license of a government teacher and bought second-hand items in 2021. At first, the customers were few but kept on increasing though not as expected. My problem now is capital and if I happen to get any support, I hope to expand and bring in items according to customers' needs and values."
Conclusion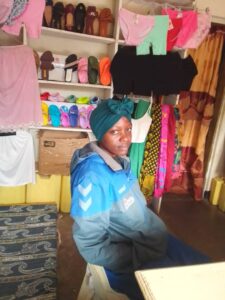 From the training with Kyusa, Harriet says that she acquired more skills in communication and marketing. She was taught the proper way of talking with different customers and she can now market her business like never before. At first, she was not good at time management. This being a sensitive attitude in business, she appreciates Kyusa for the impact on her business.
Women are not just the backbone of most families but the economy at large. When you empower a woman, you empower families, communities and the nation at large. We are committed to 70% inclusion of women in our programs because we believe women have the power to transform communities.