Kyusa has partnered with Digital Opportunity Trust to support the underserved young people, particularly young women to overcome the digital divide through the implementation of the Business Plus ICT (information and communication technology) Program.
Kyusa works with young people and has the main goal to empower and enhance the youth into sustainable and scalable businesses. And DOT is a youth-led movement of daring social innovators who have the tools, knowledge and networks to create opportunities and transform communities making the partnership easily collaborative.
We are piloting the Business Plus ICT program in Uganda. The program involves training and equipping youth as peer business trainers and coaches to support youth entrepreneurs in their communities to leverage ICT as a tool for business growth.
In this pilot, Kyusa partnered with 7 host partners in 7 districts namely – Kampala, Masaka, Tororo, Soroti, Kalangala, Kabale and Kalisizo. We hosted a partners envisioning meeting where the partners were enlightened about the objectives of the program and the expected outcomes. All partners were happy to come on board and support the program in every way they could.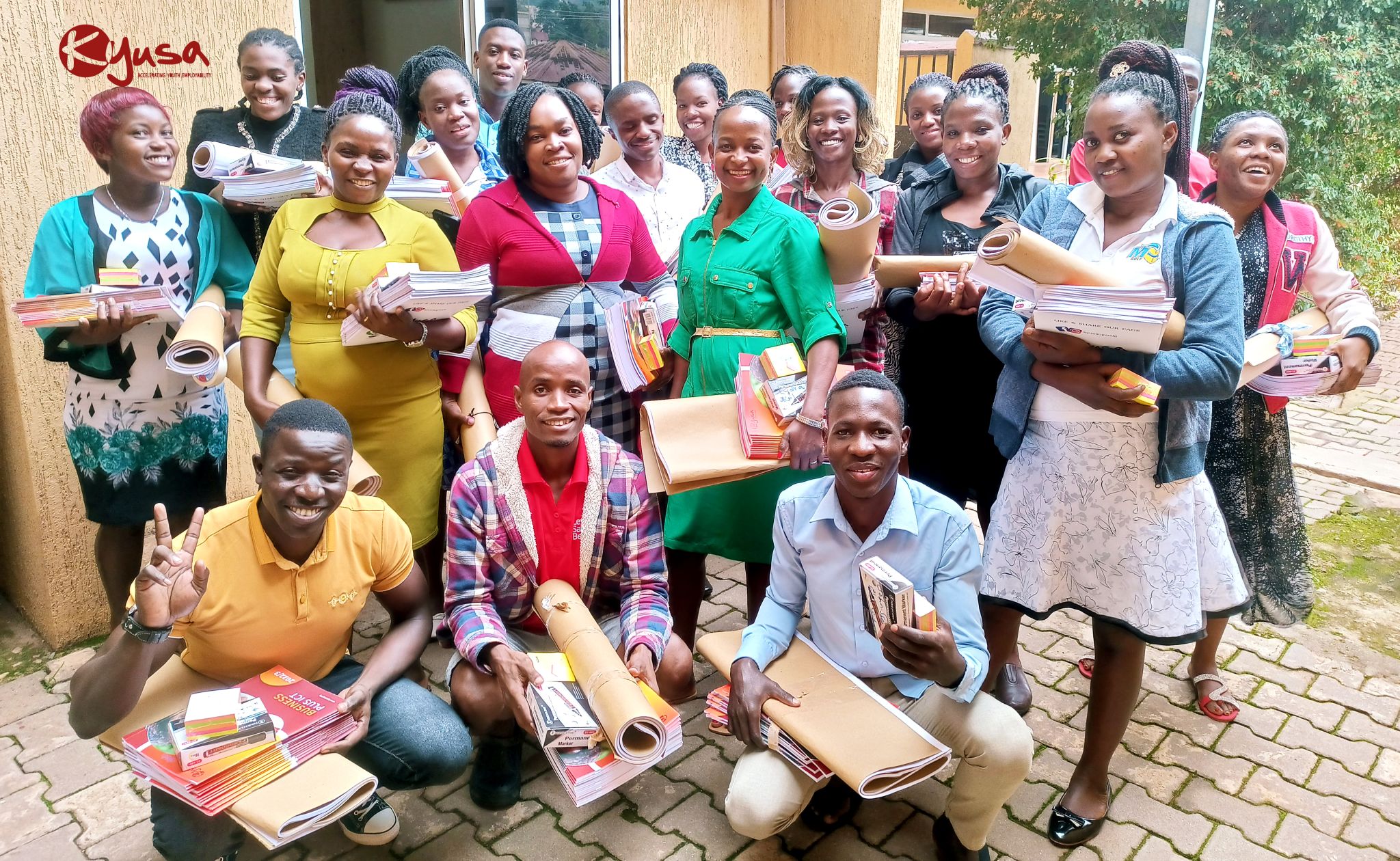 In collaboration with the host partners, Kyusa was able to identify 20 youth who were trained and equipped to serve as Community Leaders (CL). Of the selected Community Leaders, 70% are women and 30% are men. The role of the CL is to plan, coordinate and facilitate monthly business training sessions for small cohorts of youth entrepreneurs in their communities.

Before deployment, the CLs underwent a 7-day residential intensive Training of Trainers to be equipped with relevant facilitation skills and to get acquainted with the curriculum they will be using. The TOT was facilitated by Kyusa staff who were first inducted by DOT technical team to be able to deliver the training.

The CLs were each given a trainer startup kit that included a brand-new laptop, trainee workbooks, flip charts, masking tape, markers and a data stipend to enable them to carry out research as well as be able to engage actively in the designated online platforms.

With effect from 1st July 2022, the CLs are deployed full time eight months where they will be expected to support 10 – 15 youth entrepreneurs in their community monthly and in return, Kyusa will facilitate them with a monthly stipend.

This is a pilot program and we are eager to learn from it as we aspire to scale the project in the coming years.