Overview
Cissy Naginda is a young businesswoman who runs a store in Masaka's Nyendo Mukungwe Division's Ndegeya Trading Center. Cissy has two sons and is married. The spouse was so loving and caring, and he had a very well-paying job, which led Cissy to believe that she had accomplished everything in life and that there was no reason she should get a job for herself. Cissy got married at the age of twenty, eight years ago, as a high school dropout. However, after Cissy gave birth at the beginning of 2016, things went horribly wrong when the devoted husband abandoned her in a rented home for another lady.
The young mother's life had become terrible, so she decided to leave her comfort zone and hunt for work. She was hired as a receptionist by a certain NGO. Since they did not permit newborns at her place of employment, the difficulty now was finding someone to watch the child while the mother went to work. She was left with little choice except to take her child to the village to live with her mother, where she could go up to a month without seeing him. This was extremely upsetting for a first-time mother who wanted to see her child develop.
This challenge inspired her to save a portion of her salary in order to start her own business, allowing her to spend more time with her son at work. The desire to be with her child kept her focused and determined, and on January 1, 2018, she decided to take her meager savings and open a retail shop. She also managed to enroll in a weekend college program and earn a certificate in food and nutrition, which has allowed her to work with the Village Health Teams (VHTs) in her community.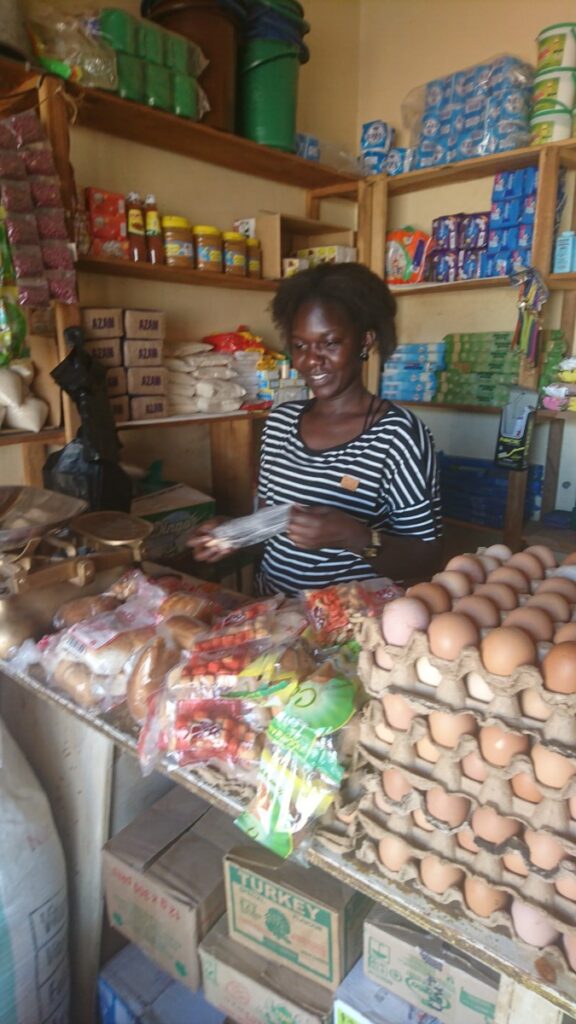 In her own words…
"When I heard about the kyusa trainings, I made a point of attending, and believe me, it was not a waste of time. Before the training, I was struggling with how to increase my income because the cost of living was rising and my business income was stagnant; however, after discovering that I had baking skills that had not been put to use, I decided to start making snacks and selling milk, which increased my sales by 60% and thus my income; this was due to being able to identify my customers and their needs, which positioned me to serve them appropriately.
The kyusa training helped me understand the importance of bookkeeping. I've had this shop for a long time but had no idea how much profit it was making or how to plan for it. Thanks to Kyusa, I now know my monthly profit and can pay myself a salary from my business. I can attest that after attending the kyusa training in July, I received a salary from my business in September. I'm at a loss for words to describe how I feel! I had never imagined that my business would pay me a salary.
I also learned to separate personal expenses from business expenses, and whenever I pick something from my shop, I record it, unlike before when I could just pick things from the drawers, including cash, without noting it down. This has helped me to stop unnecessary expenses, and as a result, my business is growing and my savings have increased. I am confident that within the next five years, I will have opened another shop. I am grateful to Kyusa, and I thank you for the program. May the Lord grant you your heart's desire.
The visits from our facilitators have benefited me because they continue to encourage me and show me that I am not alone in this journey; kyusa is like a family to me, and I encourage all young people to attend the training for a better life."
Conclusion
As the Kyusa family, we are grateful for adding value to Cissy's business life, and we are confident that such a spirit will improve Uganda's economic well-being.
Remember to follow us on social media for updates on upcoming programs that can help small businesses get started.